Left to Right, David Hassall – keyboards, Andy Pennance – bass, Clive Jones – vocals,  Adam Halford – drums, Jason Woolley – guitar.
================================================
The Train Set played the ShiineOn festival in Minehead, November 2016 – performing the single Beautiful Monster on the main stage.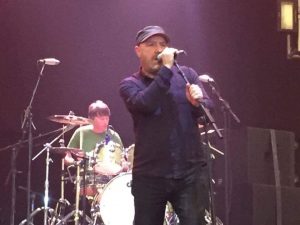 The Train Set are a band originally from Crewe, Cheshire. Formed in the 80's they were signed to a label called Playhard records in Manchester run by Dave Haslam and Nathan McGough. The band moved to Manchester where they released their first single 'She's Gone' (single of the week NME and highest new entry in the indie chart).  Rehearsing on a small farm near Tarporley Cheshire they toured with bands such as 'The Happy Mondays', 'James' etc.
Now back together and joined by new guitarist Jason Woolley the band are gigging, writing new material as well as revisiting their back catalogue. The vinyl version of 'Never California' was released in November 2016 along with the new single 'Beautiful Monster'.
YOU CAN NOW BUY THE ALBUM (CD version) FROM BIGCARTEL: Click here to buy now.